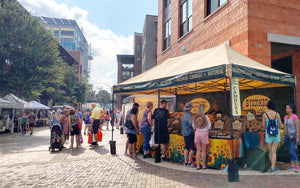 Welcome To Our Family Business
BYCCOMBE NATURAL SOLUTIONS,
(pronounced    by-kōme)
makers of all natural handmade skincare products and pure beeswax candles. Our journey began in 2009 farming, growing and producing natural chemical free vegetables on our Springfield Farm, selling downtown Austin at SFC Farmers Market, then in 2010 San Antonio at Pearl Farmers Market. Our burden to have natural skincare motivated us to start making our own beginning with Goat Milk Soap, using the milk from our own dairy goats at the farm where we hand milk daily. Immediately we added pure beeswax salves, Shiitake Salve and Skin Saver Salve, Lip Balm and more. We've enjoyed an organic growth with the skincare which absolutely took the lead as our main busines. In 2018 we added yet another favorite product, 100% Pure Beeswax Candles. The name of our business, Byccombe, is an old old spelling of our family name which is personally special to us for our family business as well as unique and ideally memorable in retail. Our natural skincare and candles are easy to find online at Byccombe.com with free shipping. Our largest display of everything we make and lots of it is at Pearl Farmers Market in San Antonio, Texas! Find us there every weekend Saturday and Sunday plus various other events offered at Historic Pearl. Yes, you can still find us downtown Austin as well. Please join us on social media for a closer look at making, selling at market, farmlife, animals and garden. We truly love what we do! --Thank you
⇀ Free Shipping $24 Minimum Order ↼
Find Us
In 2009 our family began bringing our products to famers markets, and we've been going strong ever since!! You can find our largest display at Pearl Farmers Market at Historic Pearl all in  San Antonio Texas! Also find us at Barton Creek Farmers Market in Austin, Texas!!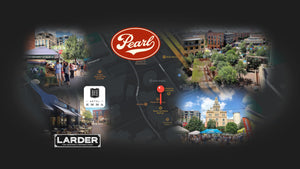 Natural Sources
We partner with some great local companies to ensure the freshest and highest quality ingredients in our products. Gretchen Bee Ranch has supplied us with our natural beeswax since the birth of our company and Kitchen Pride has supplied the Shiitake mushrooms for one of our most popular products. Not only are these business owners our colleagues, but our friends.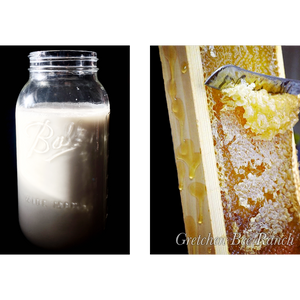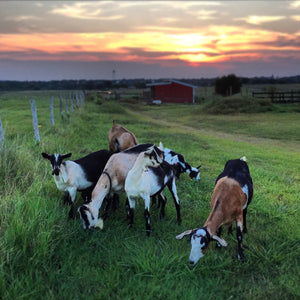 Goatmilk
Because goat milk is the key ingredient in our soap, we insist on the freshest and best quality goat milk possible. For that reason, we raise and nurture our own herd of majority Nubian milk goats. Each goat is special and named and lovingly cared for. They are provided with the best quality hay and grain, which often includes organic produce from our farm. Vitamins and minerals in their diet are important and supplemented so as to pass through to the milk and thus to the soap. 
CHAPARRAL
We source our fragrant chaparral from the Chihuahuan desert near Fort Stockton, Texas; where it is harvested sustainably from our private nature reserve. Native Americans used the waxy, aromatic leaves for medicinal purposes. Our "Desert Rain" soap and skin saver, as well as our Shiitake salve, and beard balm are enhanced by this beautiful fresh scent.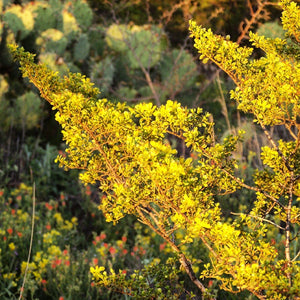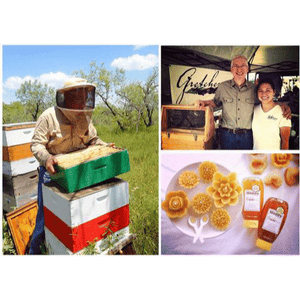 PURE BEESWAX & RAW HONEY
At the Gretchen Bee Ranch our first commitment is to provide you with fresh, healthy products from our beehives and from the hives of other beekeepers that we know and trust. You can be assured that when you buy our honey, and other bee crafted products, you will know exactly where they come from. All of our products are presented to you as purely as they come out of the hive. Nothing added, nothing taken away.
Our second commitment at the Gretchen Bee Ranch is to help replenish the bees that have disappeared from our area. Varroa mites, colony collapse disorder and small hive beetles are three of the adversaries that imperil bee hives today, and that have taken a serious toll on our world's bee population. With 30% of our diet dependent on pollination, the problem is troubling.
At the Gretchen Bee Ranch we are taking steps to remedy this situation locally by strategically placing our bee yards where they can pollinate farms and native plants throughout the region. Unlike large migratory bee companies, our hives stay put throughout the year so that they can pollinate the crops and flowers that bloom in each season. The way we see it, our bees are adding beauty, color and abundance to the world around them.
SHIITAKE MUSHROOM
Kitchen Pride has developed a state-of-the-art process for growing the freshest, local, highest quality and consistently supplied mushroom that can be found in Texas. With 300,000 square feet under roof, Kitchen Pride grows mushrooms in specialty designed growing rooms that are dark, climate controlled and therefore allowing for growing mushrooms year round.
The process begins with creating a perfect medium for growing which is similar to soil typically used for other vegetables. The medium (a compost) is made of a variety of agricultural by-products. The primary ingredients are wheat straw, cottonseed by-products, brewers grains, water and other supplements. This outdoor composting process takes about three weeks. Temperatures will reach up to 180 degree F. during this period. The materials are mixed, aerated and moisture levels are managed to change these raw ingredients to a chocolate brown material, rich with nutrients. Once the outdoor composting process is complete the material is loaded on to shelve in a Phase II composting room.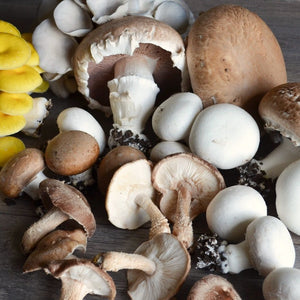 Over the next week the compost is managed under tight temperature ranges and pasteurized to create a very selective growing medium. At the end of Phase II the compost has somewhat of a sweet, earthy smell. The material is transferred to a growing room where it is planted with the pure mushroom culture called spawn. This pure culture will grow over the next thirteen days to completely colonize the growing substrate with white strands of mycelium. These mycelia would be similar to a plant's root system. The shelves are then covered with a 1.75 inch wet layer of peat moss. The mycelium will grow through the layer in about seven days where the crop will go through an environmental change, which initiates the fruiting process.
From this point the tiny mushrooms will start appearing on the surface of the peat moss. They will double in size every day until they are ready to harvest within ten days of this environmental change. The entire process from the creation of the medium to crop completion takes about 12 weeks. When the mushrooms are ready, they are harvested by hand to ensure consistency in size when packaged. Once they have been picked, the mushrooms are transported by Kitchen Pride's own proprietary Mushroom Transportation Conveyor System (MTCS) that transfers mushrooms from growing rooms to coolers, eliminating excessive handling, expediting cooling while extending shelf life and optimizing mushroom product quality.
Kitchen Pride delivers fresh mushrooms to most Texas markets each and every evening on Kitchen Pride owned- and operated trucks.
Testimonials
Hi, Tracey Overton here. Just bought 6 more exotic coconut lips balms. I always buy 6 at a time so I can put them all around the place and in bags. I'm a nurse that works in a hospital, they keep the air really dry. So far, since stumbling upon a Bycombe tent in San Antonio 4 years ago. Still tout that they make your lips feel like pillows and the moisturizer in the lip balms lasts for a long time. I love your products. And your customer service has always been amazing. Keep up the great work.
Tracey Overton
I was first introduced to your products four years ago when visiting Seguin to see my sister and she said we HAD to visit the farmers market at the Pearl. I've been hooked ever since. Recently, I purchased the skin salve for my dad who always has dry hands and lips from working outside all day on our ranch. I was jealous I didn't buy one for myself, so I ordered one a week later...not only do I use it myself, but I had been putting it on my doggies pads of his feet because they are so dry and cracked. One use and they were smooth and supple. Since it's natural ingredients, I figured it couldn't hurt. He wasn't a huge fan of me putting it on him, but he left it alone and I'm shocked with the results. Anyway, love all of your products.
Wendy Ahumada
I found I was alergic to chemicals in regular soap, when I picked up a milk soap never had an issue again, have used goat milk soap ever since. Thanks
Rose Diaz
I buy their soap products all the time at the San Antonio farmers market and absolutely love their products. I also love to support local businesses as well.
Philip Fletcher
I absolutely love your Shiitake Salve! I use it as a nighttime facial moisturizer every night. It has done wonders for my skin! So glad I stumbled upon your booth while on vacation in San Antonio. I am now a lifetime customer and fan. Thank you!!!!
Stace Bea
I am in love with the goat milk soap! I have purchased from other vendors prior to finding Bycombe and I will never buy from anyone else again. I also recently purchased the Shitake Salve and it is utterly amazing!
Sherry Dople Hocking
I love supporting locally sourced products. I love the shitake salve, lip balms, skin salves, and soaps. they are all great and well made. they are usually the reason I go to the farmers market. I love their products so much.
Ash Wonder
Love the Goat Milk soap. Bought it at the Pearl Market years ago while visiting my sister. Now every year I make a purchase to get me through the year online.
Hope Enbysk Franks
Me gustaron muchísimo sus productos, tuve la oportunidad de comprar unas cremas cuando estuve en San Antonio y son mis tesoros.
Adras GonCru
I love their exotic coconut lip balm!!! The balm is the bomb! It was a gift and I'm now reordering for me and some friends. Looking forward to trying some of their other products.
Sandy Manson Cheek
It is the best! The best soap, Best lip balm. Best honey body scrub, shiitake salve.
I order all of their stuff for not only our personal use but for Christmas Gifts. You wouldn't think your friends and family would like getting soap for Christmas 😂but everyone loves to feel pampered with great natural products!
Chrissy DeRoin Moore
muy buenos y de buena calidad
Ana Sierra
farmer approved. the most wholesome products around. I love it all, but the soap and beard balm are a must. oh, forgot to mention that this is family run operation, and what a great family they are.
Mark Escobedo
I have eczema and the Patchouli salve is really helping!!
Lisa Ursery Crabtree
Love their products. I suffer from Eczema and their products keep my skin so soft.
Rita A. Martinez
I Haven't found one of their products I didn't like. I went from smelling good to smelling like a unicorn that just took a bath in a sunshine and sandalwood. Make the switch, you won't regret it.
Rick Castillon
I live in San Antonio but spend at least one week a month in west Texas where the climate is much drier. It never fails that within a couple days there, my lips and hands are cracked and so dry that they're painful. I came across Byccombe at the Pearl Farmers Market and started with the lip balm... a few months later and I use all their products! I use them at home occasionally, but when I travel they are my best friend for keeping my skin hydrated. I now have my sister hooked and am gifting to several others this Christmas! Great products with all natural ingredients!!
Michelle Bates
My daughter had a constant diaper rash that nothing store bought could cure, within one day of using the eucalyptus mint skin salve, it cleared up, will definitely be a customer again!
Joe Wells
Hello my name is Bruce Bosche and I would like to give a positive review of your amazing shitaki salve.. Two years ago, I was in the hospital due to the effects of a serious car crash. The car crash gave me a concussion and subsequently, I had to have brain surgery to remove the blood which had accumulated in my cranium. This produced a long, seven inch scar running from the back of my head all the way to my front forehead. I came upon your shitaki salve thru a friend. The scar had become unsightly and people stared. After using your product for less than three month, the scar has almost completely disappeared! I call it my miracle salve. Thanks for producing such a wonderful product. You have a customer for life! 
Bruce Bosche
 I wanted to thank you for this marvelous product. I had a brain tumor removed in January of last year and due to complications, spent a year in bed. Needless to say, my elbows were a mess from scooting myself up and down. My daughter saw your booth at the San Antonio farmers market. She bought the oats and honey salve for me. I am so happy with the results. My elbows are smooth and pain free. This product should be a must in every home. Thanks again.
G. Martinez
Byccombe Natural Solutions/Springfield Farm products are a huge part of the health in our home. From your amazing goat milk soaps, to your truly healing salves, we love your products in a BIG WAY - every scent is intoxicating, every product is effective! In the last 2 years, we've tried numerous brands in our quest to evolve to a 'cleaner' lifestyle, wishing to reduce our exposure to toxins and unnecessary chemicals. What a relief it's been to use your salves and soaps, and that Peace of Mind is incomparable. We have your lip balms, salves and soaps scattered throughout our home, and take them with us everywhere! The eczema that arrives with Winter, and the rosacea that arrived with the glory of aging, are healed, and so long as you produce them, we will buy and use your products with grateful hearts!
T. Watson / Atlanta, Georgia
 Byccombe Natural Solution products are a MUST HAVE! I keep a lip balm in every purse, a soap at every sink, and several salves in my office. I trust these products to be safe and healing for my skin and I trust the people who produce them. A lot of research and care goes into making each product. Byccombe Natural Solution products provide a healthy, natural glow while moisturizing. My favorite combination for instant skin healing is using a honey scrub on my face followed by the shiitake salve. Perfection! These products make great gifts as well. Many who have been on the receiving side of these gifts have become fans. Try these products for yourself. You too will notice a difference.
Tatum Evans / Wisconsin 
The goats milk soap is A M A Z I N G! Great products and service.
Tonne Herron
My daughter had a constant diaper rash that nothing store bought could cure, within one day of using the eucalyptus mint skin salve, it cleared up, will definitely be a customer again!
Joe Wells
I live in San Antonio but spend at least one week a month in west Texas where the climate is much drier. It never fails that within a couple days there, my lips and hands are cracked and so dry that they're painful. I came across Byccombe at the Pearl Farmers Market and started with the lip balm... a few months later and I use all their products! I use them at home occasionally, but when I travel they are my best friend for keeping my skin hydrated. I now have my sister hooked and am gifting to several others this Christmas! Great products with all natural ingredients!!
Michelle Burns
We've been using their lip balm and soap for several years. They are fantastic people and they make awesome products.
Jeromy Kusch
First thank you for the kindness mailing me the order.We love all your products. 
The Shitake salve has proven again & again to be excellent skin salve. Cured spots Dr. Couldn't just days.
BUT I took my dogs to board Labor Day weekend. My one came home with scrape under eye & what looked like beginning mange.
I put the salve on him. The very next day he was healing quickly. I didn't need second application.
Scrubs are better than spa. 
Margo Hall
I've been using their skin salve, bar soaps and lip balms for YEARS. Their lip balm is the only one I've ever used that isn't waxy,or make my lips feel gunky. Their scents are so fresh, and every product always leaves my skin feeling soft, clean and naturally delicious. I always use their soap on my little ones, and I highly recommend their product to people of all ages.
Anna Catherine
Oh my goodness am I glad I stumbled upon your booth while on vacation this weekend. I am in love with your shiitake skin salve! I have only used it 2 nights, but can honestly say I already see a difference. Some background on myself - I worked with one of the top prestigious cosmetic brands for years. I know a good product when I see one. I have used some of the most sought after skin care lines and would throw them all away for this salve. It's that AMAZING! I will be a regular of yours! I also love your soaps and other salves as well. I'm ordering your scrub next! Thank you for making this!
Qedrin Booth
Met them today at the Mueller Farmers Market. Not only are they a great family making great products, they also make soap with my favorite scent - Eucalyptus! Support these folks!
Thomas McGregor
I love your products as well as gifting your products. The soaps are amazing and are the only soaps we use now. The salves are awesome and I carry a tin at all times in my bag. Actually I believe we have one in almost every room of the house. Lip balms and honey scrubs are both great products as well. BUT my all time favorite is the shiitake salve - the silkiness of it on my face is so luxurious!!!! My sisters and I LOVE this so much and combined with my honey scrub regime, I have received many compliments on my clear and smooth complexion, especially when they find out I'm in my 40s! Thanks for making such amazing products. We love knowing the love and care that went into each product. and thanks for teaching us so much and choosing our honey and beeswax for y'all's amazing product line!
Thien Gretchen
The shiitake salve and the honey mint coffee body scrub are by far my favorite products for my skin!! They use all natural LOCAL ingredients so I know exactly what I am putting on my skin. (Think "Farm To Skin"). My skin has never felt better (soooo soft) nor looked better!! Thank you guys not only for the phenomenal products, but also for the love and care that I know goes into each of your products!
Casey Wagner
I love their soap! It smells amazing, leaves your skin feeling clean with no residue, and doesn't disintegrate in the shower after 2 uses! Definitely our family's new soap of choice
Paige Nicole Velazquez
Their original goats milk soap is the only thing I've found that calms down and keeps my psoriasis at bay. Love it!
Christine Solis-Mendoza
I was visiting San Antonio TX last November. Found this soap at an outdoor market... 
AMAZING! Just received another order in the mail last week. Great stuff.
Robert Villanova
My mom purchased the fresh mint goat's milk soap for me, and it is FANTASTIC!!!! I don't even have to put lotion on my skin, since it makes my skin so smooth and healthy! And a bonus, it was amazing on my face and removed my waterproof makeup, something my normal face wash doesn't do.  I can't wait to buy more of their products!!!!
Analissa Cantu
These soaps and salves are amazing. We've been using them since the beginning and I can't imagine using anything else. When we're away from home, we always take them along. It's that good. Thanks, y'all!
Emily Freeman
Love their product - fresh, local, and smells so good!
Evan Driscoll
Tried the Lavender Bliss, loved it. Can't wait to try my Fresh Mint soap and Herbal Mint scrub. Haven't had anything like this since I left San Diego. Thank you.
Angela Jaramillo Velazquez
You can't get anything more natural and close to home with this family. Blessings
Becky Ottmers
2 words 1/AMAZING (caps needed to say it) 2/Buy! There's no words to describe it, you'll have to try it!
Whitney Rix Victory II
I love the soaps and the lip balm. Excellent products.
Brenda Ames
I have skin allergies and am gluten intolerant, your soaps are the absolute best for my skin care. I love your products.
Nana Drew
Absoulty love their soaps!! Help me so much with acne.
kiara Reyes Diaz
The goats milk soap is A M A Z I N G! Great products and service
Tonne Herron
Love the Lemongrass Skin Saver Salve!!!! Best ever!
Gretchen Grimes Riddle
View more rave reviews about our products on our Facebook Page!